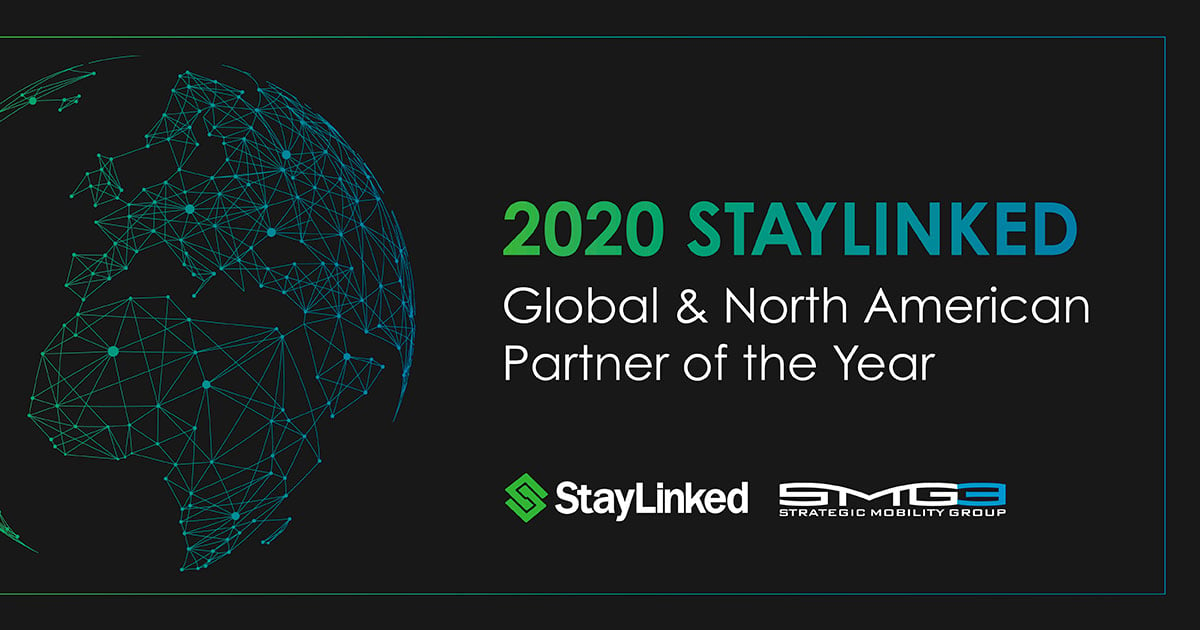 Schaumburg, IL – Strategic Mobility Group, LLC (SMG3) has been named StayLinked's 2020 North American and Global Partner of the Year for its continual dedication to customer service amidst the global pandemic. This year, the award highlights both superior technological knowledge along with an adaptable ability to create lasting customer relationships.
"We are thrilled to be able to recognize these outstanding Partners", says Ron Caines, StayLinked Vice President of Channel Sales. The global pandemic hindered many partners from providing real-time and on-site assistance, yet SMG3 was able to balance safety and efficiency. "Their dedication and commitment to delivering the best possible experience with our software products and facilitating their customers' migration to new mobile devices, platforms, and automation technologies mirrors our company's strategic direction, our goals, and our mission to be more than just another supplier to the market".
With these recognitions, SMG3 can provide up-front assurance to its customers since they have clearly demonstrated the ability to match unique business challenges to versatile automated technologies within a timely and safe manner.
"We took all the necessary precautions to keep our teams safe while helping out our clients, whether it be over the phone, virtually, or in a social distanced setting," Nancy Gorski, President and CEO of SMG3 explains. "It was pretty crucial to us that we continue to give customers a sense of consistency in the middle of all the change that's going on."
SMG3 worked with trusted manufacturers to deliver consistent solution quality. By pairing StayLinked's intelligent software with durable enterprise-grade solutions, SMG3 helped customers prevent hardware breakdowns, lower operating costs, and speed up employee onboarding to keep productivity levels untouched during the health crisis.
"Companies are selected for their outstanding support for their customers, their technical competency with StayLinked products, and their skills," Caines said. When working with a StayLinked Award Winner like SMG3, "a customer can rest assured they are in great hands."
"Our commitment has been and will always be to our customers," Gorski stated. SMG3 now continues tailoring automation solutions for varying industries to meet the new challenges of the post-pandemic world. "We're in the business of turning obstacles into opportunities, and last year's challenges did not change that. It only made us more resolute."
ABOUT STRATEGIC MOBILITY GROUP
Strategic Mobility Group (SMG3) was founded by Nancy Gorski, Nico Genet (The Barcoding Expert), and Eric Holmes as an innovative technology provider that designs and integrates mobile solutions for enterprises. We consult companies on how to operate more efficiently through the use of mobile hardware, software, wireless networks, professional services, and support. It is our job to keep businesses up to date on the latest technology and provide them with innovative solutions that will maximize efficiency both inside the four walls and out. One of the best parts is, unlike other mobile technology providers, SMG3 supports our customers with a suite of services: site surveys and evaluations, custom device configurations, staging/kitting, training, technical support, and more. Helping businesses improve operational efficiencies and ROI is why many of the Fortune 500 companies choose SMG3 to manage their enterprise mobility needs. Learn more about us at: https://www.strategicmobility.com