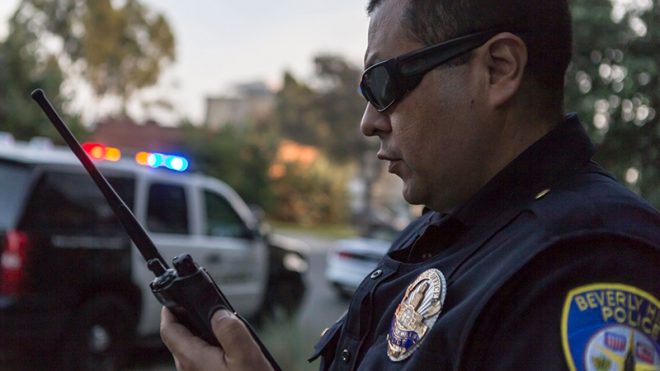 Whether you work in a hotel or a warehouse, it's imperative for your employees to be able to communicate effectively. When a split-second decision needs to be made or a request fulfilled at a certain spot in your facility, the ability to reach someone immediately is crucial. Enter the two-way radio. It allows you to communicate discreetly and quickly in a multitude of work environments.
We recommend using Motorola Solutions as your two-way radio provider because they offer a comprehensive suite of devices that serve a multitude of business and field mobility needs. Since they offer such a variety of options, you want to work with professionals who will help you select the right device for your enterprise. Here are the five questions that should be asked to help determine which line of two-way radios you should use:
What level of durability do you need? When you work in a retail or hospitality environment, the level of durability that you'd require of a two-way radio is different from what you'd need working in a warehouse environment. The Motorola CLP and CLS series are ideal for retail or hospitality spaces, whereas the ruggedness of the RDX and DTR series radios are perfect for today's warehouse environment. Start your search by narrowing down which radios you consider based upon your work environment.
How much ground do you need to cover? The square footage of your facility is a key component to consider when selecting a device. For example, if you work in a warehouse and choose to purchase a DTR series device, you would select either the DTR410 or DTR550 based upon how much square footage you need. The 410 covers up to 250,000 square feet, whereas the 550 covers up to 350,000 square feet. For more sprawling distances, you'll also want to consider getting a compatible repeater, which receives transmissions from the radio and then are broadcast at a higher wattage on a different frequency.
What frequency is required to fulfill your needs? Most two-way radios fall into one of two frequency categories: UHF, or Ultra-High Frequency, and VHF, or Very-High Frequency. It's imperative that you choose the correct one for your facility because if you don't, you could experience issues with the signal frequently. VHF is best for field workers who primarily work in an outdoor area that's free of obstructions, like buildings. Indoor facilities or workplaces that require communication inside and out are better off using UHF frequency radios. Although UHF signals don't travel as far outdoors, they do a better job penetrating obstructions like steel and concrete, thus improving their performance.
What accessories will you need? From chargers to wireless Bluetooth accessories, you're going to need to figure out which items will best suit your needs for your work environment. Perhaps you need microphones and wireless Bluetooth for workers in the field or employees using wearable radios as they move about the facility, or perhaps you need mounting accessories for employees who work on forklifts. Figure out your needs and ask the team you're working with to help you pick out the accessories that will be the right fit.
How will you maintain your devices after purchase? Even the best of technology breaks after frequent use. How will you fix broken devices? What happens if a number of devices break and you need a spare pool to keep your employees up and running? This is where working with a knowledgeable team of professionals can really help. At SMG3, we will not only work with you to help pick out the right devices, but we'll ensure that after purchase you get tier 1 and 2 tech support and access to our EDGE mobile lifecycle management portal, where you can manage your devices and spare pool from one location. You won't have to worry about a lack of productivity should anything go wrong. We'll help you stay on track.
Two-way radios will allow your employees to stay connected and communicate effectively with one another. It's imperative to find the device that best fits your business needs, and these five questions will help you find it. If you're interested in learning more about two way radios, please start shopping here or give us a shout. We'd be happy to help get you up and running.