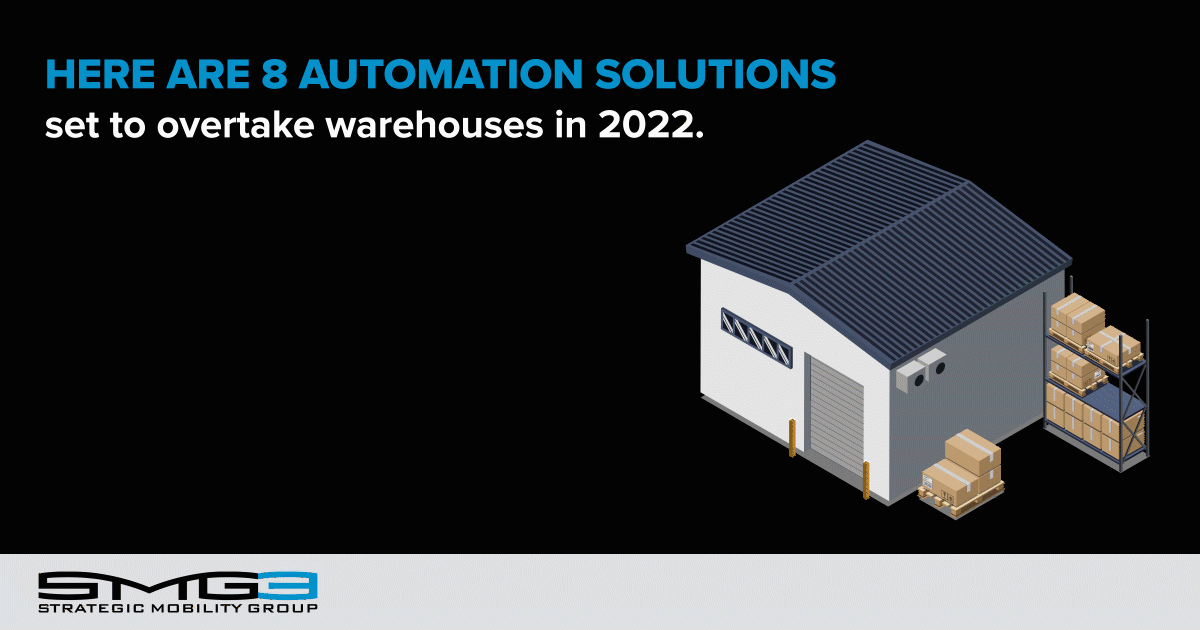 2021's demand for fast and accurate order fulfillment exposed a lasting need for automation to remove repetitive tasks and manual data from dynamic supply chains. With the rise of ecommerce and new customer demands, automated tasks present a new opportunity for warehouses to meet expectations without overwhelming the workforce. Most companies agree on this, as there will be a significant increase in plans to use sensors, RFID, location tracking, and voice recognition by 2022. However, while 77% of warehouse managers agree they need to modernize their warehouse operations, most admit they are slow to implement new devices and technology. Turning to automation can help your business meet expectations to limit the pressure on your workforce.
As warehouses and distribution centers now struggle to balance the end-of-year surge in online orders with new seasonal hires, the time has come to note possible automation solutions to consider within the coming year. From rugged mobility to real-time inventory visibility, listed below are several technologies currently bolstering warehouses to gain a competitive edge in 2022:
Reliable and consistent RFID tracking to show item quantities in your inventory. Accurate locationing can help expedite order assembly to diminish the likelihood of returns. Accuracy and visibility leads to decreased storage costs and prevents out-of-stocks to help you stay ahead of the competition and minimize the impacts of labor shortages.
Real-time location tracking that manages your company's critical assets to create more efficient workflows and expertly capture location data. Also, real-time location systems provide complete location sensing of assets, inventory, and people to minimize downtime, enhance workflows, and save time and money. Minimizing downtime and enhancing workflows helps eliminate overstressed warehouses.
Durable labels that are rigorously tested in harsh conditions to deliver top-notch print quality and rate durability in outdoor conditions. This allows teams to quickly identify and track inventory without wasting time with manual data retrieval.
Faster WiFi connections for instant response times built to protect connectivity from sudden drops by providing real-time diagnosis and troubleshooting of WiFi issues. A faster WiFi solution ensures reliable connectivity and throughput across your warehouse's network and is able to adapt to changing warehouse conditions. Keep your workforce connected with wireless connectivity assistance from

SMG3's WiFi Guys.

Long-range communication channels that help teams communicate better by providing communication channels without deploying additional devices. Additionally, better communication systems can also be used to unify your supply chain to make inventory workflows smoother from the warehouse to the storefront. Ensure communication throughout your supply chain ensures that your workers are more informed and prepared to do their jobs.
Integrated data capture that scans multiple barcodes and is easily configurable to deliver faster and smarter scanning. The right

mobile devices

can empower quick and simple data processing to reduce manual data entry from your inventory management system.
Versatile Bluetooth sensors that offer mobile connectivity and data-sharing to track the proper storage of inventory and assets alike in any environmental conditions. Bluetooth location technology allows for extremely fast installation for flexible location tracking in both warehouses and logistics.
Innovative inventory software that can help deliver more accurate and simpler counts while reducing costs and inefficiencies by eliminating external labor costs and minimizing downtime.
Selecting technologies that can boost your business in the future will keep your business ahead of the game. Contact us at SMG3 today to explore more revolutionary automation solutions.