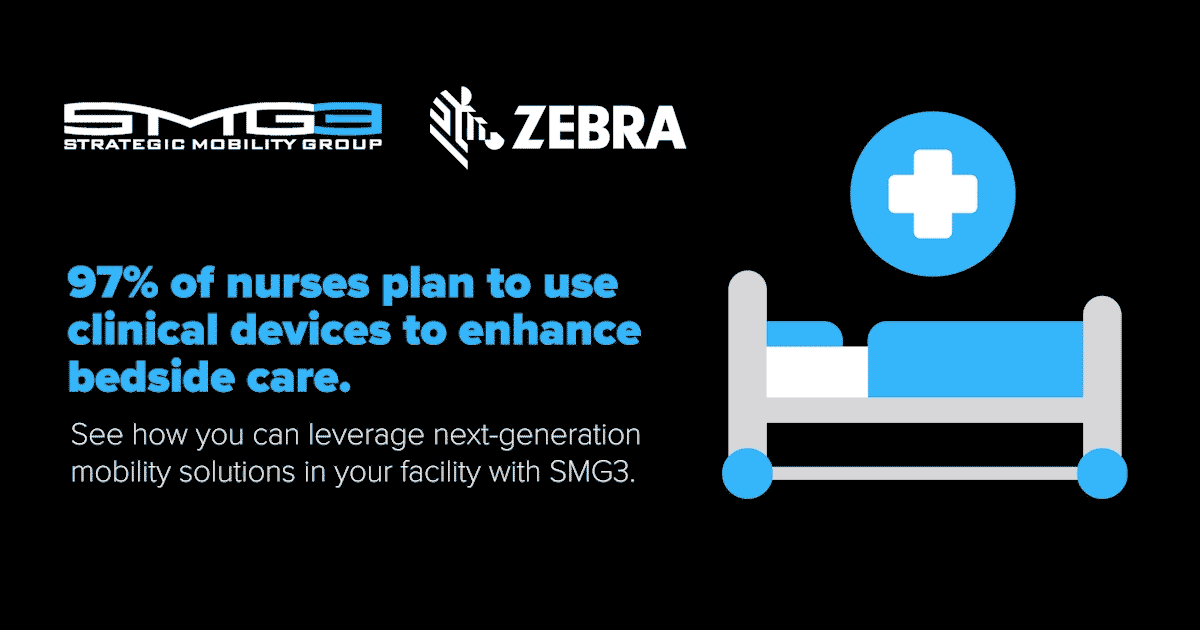 The healthcare industry faces numerous challenges stemming from labor shortages, rising operational costs, and a higher patient influx. As a result, more hospitals are automating workflows to improve patient care and create unified, efficient workflows across departments. According to Zebra's recent vision study, 72% of hospitals see an improved quality of patient care as a direct result of clinical mobility, and 61% of nurses report reduced medication administration errors. Clinical devices such as healthcare-grade handheld devices empower staff with quick accessibility to crucial patient data, alerting them of any treatment changes and/or emergencies for better care. As hospitals continue to navigate through challenges, every little bit of automation counts to reduce worker stress and maintain dependable visibility across teams.
When workers aren't as stressed and have greater visibility into operations, they can improve critical workflows like bedside care. Bedside care is so important now because it is vital to the experience and safety of patients, which could be threatened by rising challenges. Consequently, studies show that 97% of bedside nurses plan to use mobile devices by 2022. When your nurses have helpful technology, it can help your hospital gain an edge on shortages, rising costs, and miscommunication to improve hospital safety and patient care.
4 factors that drive automation in healthcare
Clinical devices like Zebra's TC52-HC mobile computer enables staff to harness real-time updates, maintain patient safety, and improve collaboration. Clinical mobility empowers patient safety and quality care with features that reduce pressure on staff.
Intelligent eye-friendly scanning - When capturing patient data, caregivers have no time to decipher illegible handwriting. Intelligent data capture and barcoding automates patient identification, preventing errors from harming your patients.

Zebra's TC52-HC touch computer

provides easy data capture of 1D and 2D barcodes in a single scan.
Powerful and consistent team connections - Communication between your staff is especially important when managing shifting trends and demands on the hospital floor. Improved connectivity from healthcare computers can prevent miscommunication and ensure patient safety. Zebra's TC52-HC comes with

crystal clear audio and better WiFi range and speed

to help your staff preserve patient safety.
Purpose-built and ergonomic design - Clinical staff need mobile devices that are built for challenging environments, receptive to gloves, and comfortable. A device that consistently operates and is comfortable helps your staff provide quality care for the whole shift.

Zebra's TC52-HC

goes a step further than this and is built with disinfectant-ready housing to withstand 30+ cleaning agents.
Powerful, ready-to-use voice solutions

- Give your workers better connections for better collaboration with the TC52's pre-installed and pre-licensed push-to-talk capabilities, all delivered through Zebra's Workforce Connect PTT Express for simple collaboration.
More hospitals are automating workflows because it ensures patient safety and improves patient care. Contact us today to learn more about how clinical mobility creates a smoother caregiving experience.