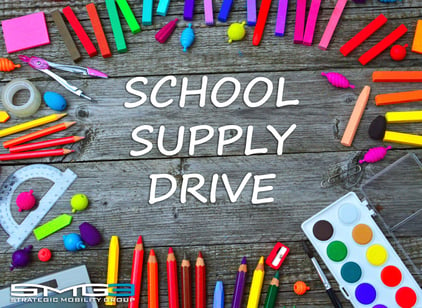 Keeping in line with our "Be The Good" mantra, Strategic Mobility Group (SMG3), LLC will be collecting school supplies to donate to the Schaumburg Township Pack the Bus school supply drive. All donations will provide District 54 low-income students with school supplies they would not otherwise have.
SMG3 will be gathering supplies all summer to deliver to the Township at the end of August. Our employees value opportunities like this to contribute to charitable causes and give back to the community. This philanthropic initiative has become an essential aspect of SMG3 culture.
The Pack the Bus event will take place from 9am-3pm on August 3rd at the Schaumburg Target. SMG3 encourages members of the local community to attend the event or drop off donations at the Township until the end of August. A list of the supplies needed can be found at http://www.schaumburgtownship.org/2019/05/Pack-the-Bus-August-3/.